CD Duplication UK & CD Manufacturing Services
Here, at Rush Media Print, we provide you with the finest CD duplication and pressed CDs with packaging from a quantity as low as 50 units. Our Prices page contains a detailed breakdown of the prices on standard CD Duplication, CD Pressing & Packaging options; however, if you need additional support, we are more than happy to give you a hand – just contact us by ringing on (+44) 0203 4880979 or just leave us a message and we'll get back to you as soon as possible. As specialist of band CD manufacturers in the UK it's our pleasure to guide you through the whole manufacturing process, from CD Mastering to CD Duplication / CD Replication (CD Pressing) and provide you with the final product that you imagined of.
Giving the best quality CD Duplication and CD Pressing on all orders!
We offer you the best quality CD pressing services, unbeatable by any other, yet at the lowest prices in the market. We produce short runs from a quantity as little as 50 CDs, packaged in a range of ways to suit your ultimate demands and budgets. For short-run CD duplication, generally a quantity ranging of around 50 – 300 discs  and  CD-R is used; while for more serious work, that is, CD replication from a Glass Master is recommended (for 500+ discs). Just browse through our CD packaging page to get the best quote and see how modest our rates really are. We ensure that we provide the best and the highest standard on all our work, which is one of the many reasons why customers tend to return to us for their next orders.
CD Duplication is the process of burning data onto a  CD-R and is typically used for smaller runs of up to 500 discs.
At Rush Media Print, we offer one of the best high quality CD duplication services. You can contact us at anytime if you are interested in any of our services. We pride ourselves in delivering outstanding customer satisfaction because we know you're the reason why we are here. We offer our services to every where in the world from our London location. When next you have a CD duplication job, think no further than Rush Media Print and we will be glad to offer you our best. Don't hesitate to contact us to discuss how we can use our expertise to deliver outstanding service.
There are many reasons why you might need a CD duplication or replication. If you've once wanted to manufacture or prepare CDs either as an artist sending out your songs to labels or as a owner of a business looking to divulge information to a large audience. If you find yourself among these categories, then you may have done CD duplication or CD replication.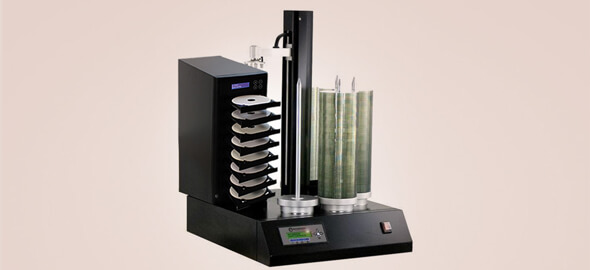 CD Duplication and CD Replication
CD duplication and CD replication appear similar at first because both are used to copy and store data. However, they have specific characteristics that make each differ from the other. It is important to understand their characteristics so as to decide the option that will suit your project.
CD duplication is a CD manufacturing process most individuals are conversant with, usually utilised for production of short-run CD duplication like 50 to 300. The CD duplication method involves the burning of audio files discs through lasers. If you've burnt data to blank discs at home, you'd probably have done CD duplication on a smaller scale.
CD duplication and replication offer several benefits, the type you choose should be dependent on the number of CDs you want to reproduce. Each process has its drawback, however, both processes have the best way of putting them to use. For instance, CD duplication is best suited for smaller quantities while replication is best for larger quantities. CD duplication has a shorter turnaround time compared to CD replication. If you are in a hurry, choosing CD duplication might be your best bet, however, if you are working with a large number of CDs, you should consider choosing CD replication.
What is the difference between DVD or CD duplication and replication?
Even though both the words – duplication and replication mean the same, they both have a different meaning in the optical disc industry. They differ based on how the final discs are manufactured.
CD Duplication
The process of writing on the blank DVD-R, CD-R and Blu-Ray.
CD Replication
The process of manufacturing the discs from stamper and glass-master by pressing of polycarbonate granules.
In the duplication process, the data is copied on the blank discs, and are then printed. While in the DVD replication or CD replication process, glass-master and stamper of the content are created, which is like a master copy. Then the discs are pressed using this stamper just like an injection molding. In this method, the discs are created from its raw form as polycarbonate granules.
Difference: 
CD Duplication is very budget-friendly and quick option when the disc quantity is 500 or less. While CD Replication is much cheaper than duplication when the disc quantity is 500 or more and the purchaser requires professionally finished discs. However, there is no impact on the quality of data that is stored or copied on the discs during duplication or replication process.
If you are certain about what you'd want or if you would like to make a start, then perhaps, check out our CD info & FAQ page, which coveys clear and detailed description on how to accurately  provide your CD audio and artwork; and maybe clear out any other doubts that you might like to make clear. If you think that you would like little push on getting your audio or artwork prepared and ready for production then, don't worry, we are delighted to help you out with our CD Mastering and Graphic Design services. Our highly qualified and client-friendly staff is ready to help you at any time if there is anything you are unsure of, or if you would just fancy a quick chat about your upcoming projects, just get in touch.
CD packages
Select the disc and best packaging option to suit your requirements and the budget.
Click on the product below to get the price.
CD in 10 panel digipak
with or without booklet
Packaging options for CD duplication and Replication
Packaging options for CD duplication​
Rush Media Print offers range of packaging options from PVC sleeve to 8 panel Digipak for DVD and CD Duplication or replication job for the great price.